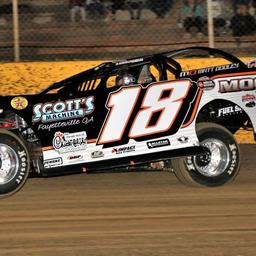 ---
Dooley Rallies for XR SAS Win at Columbus Speedway
Matt Dooley invaded Columbus (Miss.) Speedway on Saturday night for a $4,000-to-win, XR Southern All Star (SAS) Dirt Racing Series event.
Dooley took the lead on lap 22 when Josh Putnam slowed with mechanical issues. He went on to claim his first-career series victory.
"I saw Josh (Putnam) break and I thought, 'Oh crap, I'm racing for the lead.' So I had to really get up on the wheel, got on the cushion and just sent it, that's all I could do," Dooley said. "(Rick Rickman) gave me room. It was a good race and my car was good. Man, I can't believe it. This is my new favorite track for sure."
Rick Rickman, Dalton Cook, Billy Franklin, and Christian Hanger rounded out the Top-5 finishers.
Full results from the event are available at www.SASdirt.com.
Back to News